The Facts About Adding Patio Covers to Your Home
Outdoor patios and patios covers are a popular home renovation project, as they are quicker to complete and less intrusive on your home space than adding a full outdoor room to your home. HV Aluminium are experts in outdoor living spaces and have been helping Australians create their 'dream homes' for decades, they can answer all your questions on your next outdoor living project!
What is a Patio?
A patio is originally a Spanish word for "courtyard" and is an outdoor living area that is an extension of the home into the backyard, generally used for alfresco dining or recreational activities with family or friends. Being a courtyard of sorts, it is also often made of concrete or decked (though paving is a more traditional style). In Australia, the idea of the patio has evolved to also include the patio cover or roof, which provides much needed sun and rain protection. A patio cover is similar to the structure of a pergola and can either be free-standing or attached to the home.
What is the Difference Between a Patio and a Porch?
The difference between a patio and a porch is that a porch is attached to the home, more similar to a veranda (which is a roofed platform that wraps around your home) or a deck. A patio, while an extension of your home, does not need to be attached to the actual house and is usually a paved area built into the ground. It can include a roof or cover, but this is an addition to an existing patio area.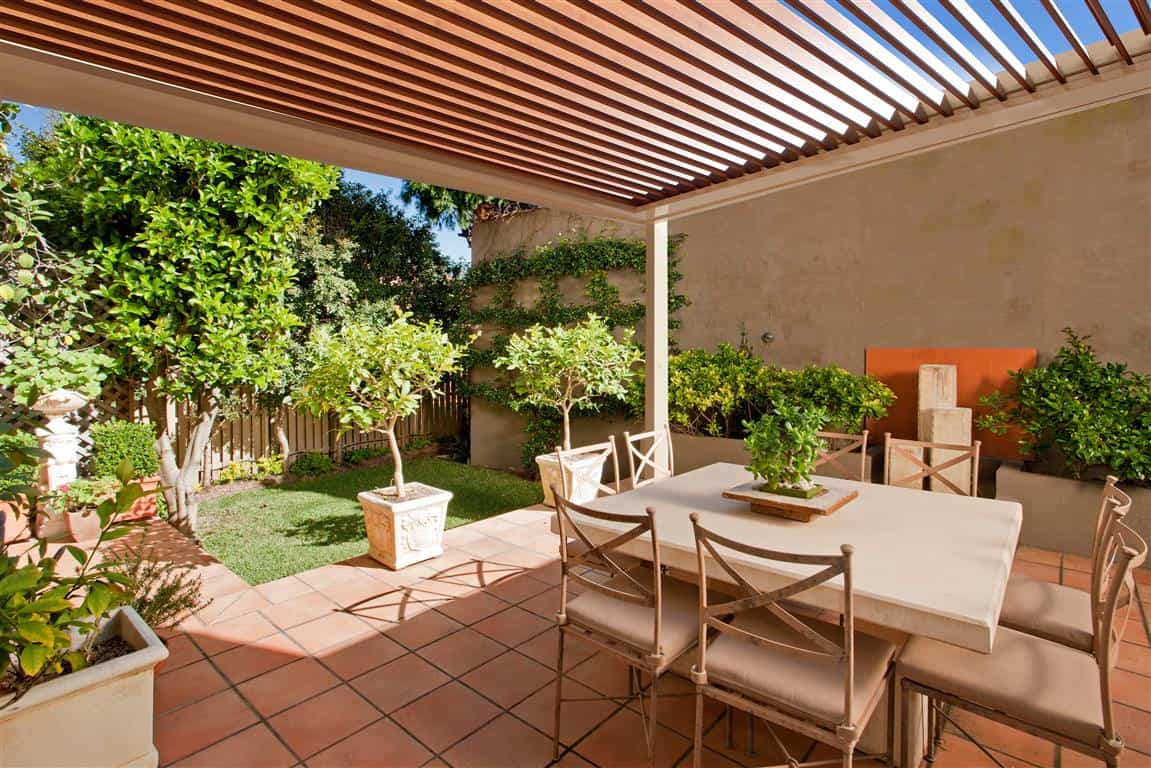 Patio Cover Features 
HV Aluminium patio covers are made from the highest quality materials and can be tailored to suit your specific needs and help you enjoy home life to its fullest.
Shademaster Shelter Systems for Outdoor Patios
HV Aluminium has chosen Shademaster Shelter Systems as the major provider of single skin roofing panels for our Newcastle clients. Our aluminium carports are 70% thicker and 40% lighter than most steel roofing, as well as being cooler. SHADEMASTER roof panels are also available in many colour combinations, allowing homeowners to customise their roof and ceiling colour to create a seamless extension of your home. Plus, the aluminium roofing panels also won't rust like steel, which is ideal for homeowners looking to build their patio cover in Newcastle, Lake Macquarie, the Central Coast and other coastal environments.
Custom Patio Roof Design
HV is one of the Hunter Region's most experienced outdoor living project specialists and can design your patio roof to suit your needs and complement your home. Roof styles include the traditional skillion and flat roof, as well as more modern styles such as pitch, saw-tooth and raked roofing. We also have the unique Eclipse Opening Roof systems that can be installed as your patio roof, including our most popular flat profile system – the Eclipse Alfresco Opening Roof System.
Remote Controlled Downlights
Our low voltage downlights add a soft ambience to your patio for evenings at home and can be remote controlled! The downlights are specifically designed for outdoor use and are available in a range of styles. See more features and add-ons to our selection of outdoor living products.
Durable & Designed for Australian Weather
Each of our aluminium patio covers is designed specifically for the Australian environment, with a durable powder coat finish that offers resistance to corrosion, while providing a rich, long-lasting colour.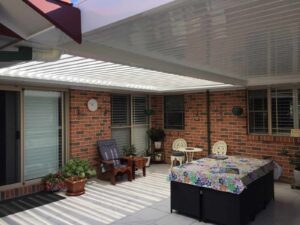 What are the Benefits of a Patio?
A patio offers a range of benefits that help you maximise your outdoor space, potentially increase the value of your property, and maximise your enjoyment of your home with family and friends.
Patios are a Cost-Effective Home Renovation
The financial and logistical commitment of a patio can be smaller than most other outdoor living projects you'll undertake. The financial investment is smaller than creating a whole new room for your home, making it a relatively low-risk investment that will potentially increase property value.
Patio Covers are an Exempt Development
That's right! Patios are part of the range of home renovations that do not require NSW council approval provided it complies with development standards. You can read more about building without council approval in our article on exempt developments.
Low Maintenance Outdoor Space
Outdoor patios are very low maintenance with minimal cleaning and upkeep required. You can easily clean your patio as needed with a hose or a mixture of mild soap and water if required.
10 Year Guarantee with HV Aluminium
Your patio cover installation will be completed to the highest standard, with a 10-year guarantee and compliance with all Australian standards.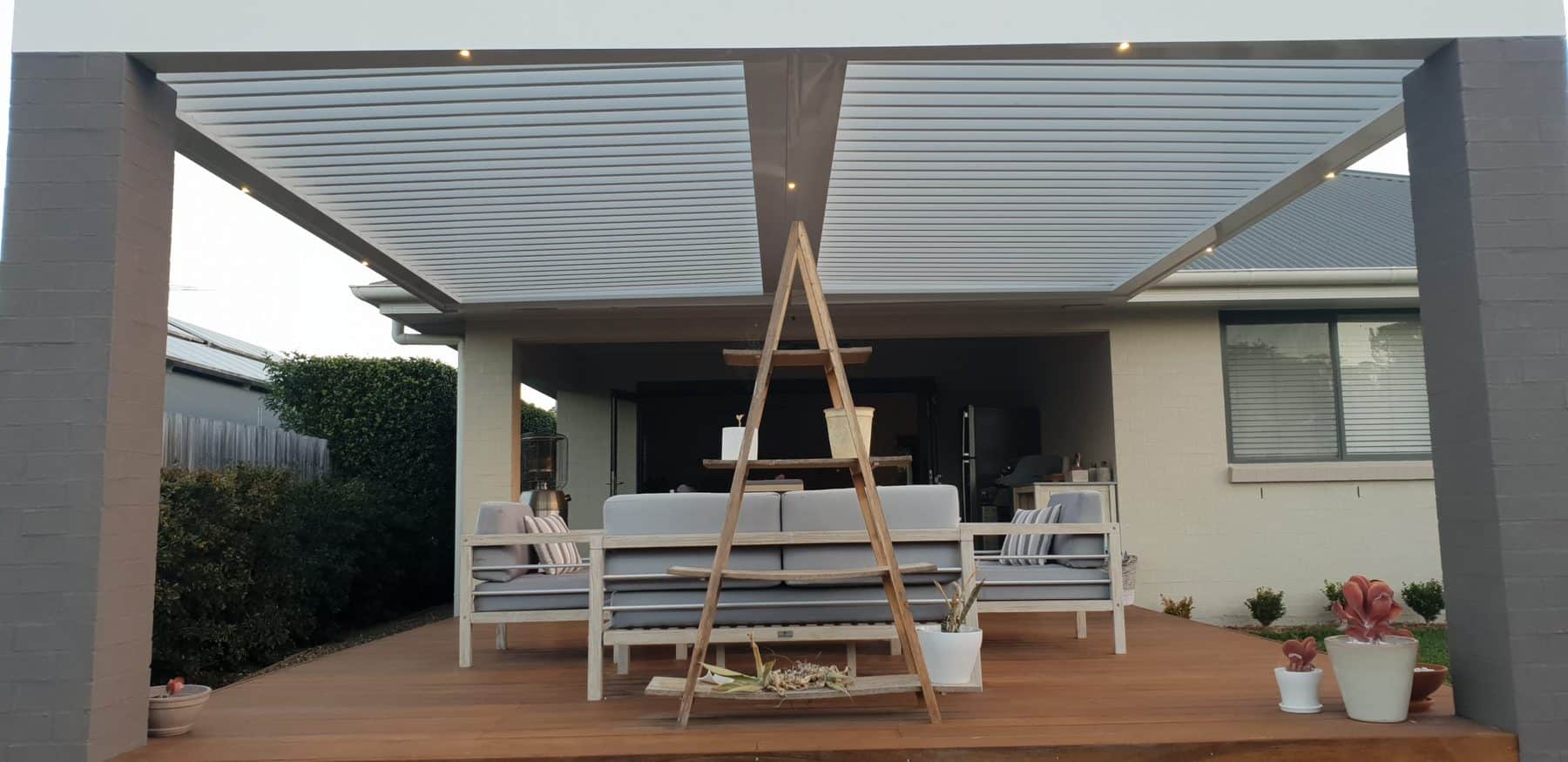 Typical Timeframe for Patio Cover Installation
Timeframe for patio installations can differ, depending on how big the project is and whether you need council approval or not. A simple structure that qualifies as an exempt development – which means it does not require NSW council approval – can take up to 6–8 weeks. For customised or more complex free-standing structures or carports being integrated into an existing structure may take longer, and if the project requires council approval it will take longer again.
Each project includes an initial appointment followed by the quote and sign-up, then we check the design, measurements and plans for the structure. Once the measurements and plans for the project are confirmed, we look into the need for council involvement, then follow through with materials procurement, delivery, installation and clean up.
The Patio Installation Stages
A patio installation can be broken up into the following stages (read more about patio installation stages here) with time spent on each stage dependent on the size of the project:
Quote and go-ahead
Paying home building compensation and/or deposit
Job site check measure
Drafting of plans and approval
Plans sent for approval to the certifying body or council
Materials list created and non-stock items ordered
Job-ready check
Schedule in project and builder
Deliver materials to the site Job start, finish and clean-up
HV Aluminium assists you with every step of this process to make sure your project moves along as quickly as possible, with minimal disturbance to you.
At HV Aluminium, we love to work with you to help you on your journey towards your dream home. We'll work with you to determine how you'll be using your patio space and local weather conditions, before providing a number of design ideas to choose from. Your outdoor patio can be free-standing or attached to your home with all the right features to create a natural extension of your home.
Are you interested in adding a Patio Cover or outdoor living space to your home? HV Aluminium Newcastle are the experts in outdoor living in Newcastle, the Hunter region, Central Coast and Port Stephens.