Summer is on its way and there's no better way to enjoy it than in your backyard. Creating an outdoor room helps to add a bit of extra comfort for those long summer days but before you start building there are certain things you might want to take into consideration.
Balance sun with shade
In Australia we're blessed with one of the sunniest summers in the world, but there are times when the heat and the UV rays get a bit too much, so building a privacy wall from sun louvres or slats along one side can be a good idea. Having your outdoor room open to the north means you'll get more sun throughout the day which may not always be ideal. If you want sun in the evening then angle your room towards the west, while early birds may prefer an eastern facing room.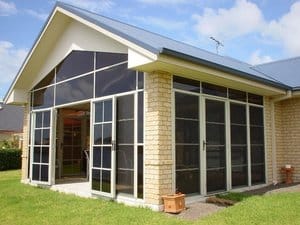 Get the best view
Another way of deciding which way to face your outdoor room is to look at the view you're going to get. If you overlook the ocean or the bush then that's an obvious choice, but others may want to think about respecting their neighbours' privacy or doing up their garden a bit. The two can often go together and planting some trees or building a trellis with climbing plants along one edge of your garden can give you a new option.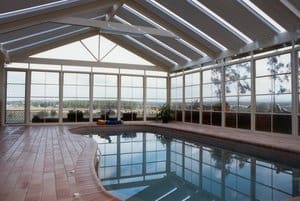 Get shade from above
Another way to increase your shade, while also keeping your flexibility, is with some sort of covering. Retractable awnings have been an option but recently people have been moving towards an opening roof. These use overlapping louvres to protect from sun and rain when needed, but also open up so you can control how much heat and breeze get through to you. This sun control can help you to heat or cool adjacent rooms.
Make it comfortable
You're going to spend a lot of time outside so make sure you get it perfect, even if that costs a bit extra. If you're going to use the space to lounge around then get comfy seating – and enough for a decent sized gathering – and think about some hammocks too. If you think of it more as a dining area then get a nice long table with adequate seating. You'll also want to make sure that it's easy to get to either the kitchen or the barbecue area from where you'll be sitting – which may need you to think about paving stones or a new sliding door.
Make it usable year-round
One of the biggest mistakes people make is creating an outdoor room that's suitable only for summer use. By installing the right screen, sash or glass walls as well as additions such as a fireplace or buying a few heaters, you can easily use your outdoor space for nine or even 12 months of the year, meaning you get more out of your investment.  
Most Australians are going to spend a lot of time outside over the coming months and if you plan to be one of them then make the most of it by creating a space in your garden that's inviting to spend time in.  
Want to talk to an expert about designing an outdoor area in Newcastle, the Central Coast or the Hunter Valley? Call us on (02) 4903 3388 for a free quote or get some inspiration for your outdoor room design by visiting our project gallery!