The Facts About Adding A Florida Pool Enclosure To Your Home
Florida pool enclosures are a popular home renovation project, as they can transform your outdoor pool area into a private oasis that provides privacy, security, reduces cleaning time and provides sun and storm protection for you and your family. The best part is you can now make the most of your pool and enjoy it all year round!
HV Aluminium are experts in outdoor living spaces and have been helping Australians create their 'dream homes' for decades, they can answer all your questions on your next outdoor living project!
What is a Florida Pool Enclosure?
A Florida pool enclosure is a fully enclosed pool area with aluminium steel frames and fibreglass mesh screens, which provides security for your pool to keep kids safe and prevents debris, leaves and bugs from getting into your pool. The fibreglass mesh is made into large panels to maximise views and, not only helps keep the pool area clean, but also allows all the natural sunlight and fresh air you need in your outdoor area.
Florida Pool Enclosure Features
HV Aluminium's pool enclosures are made from the highest quality materials and can be tailored to suit your specific needs and help you enjoy home life to its fullest.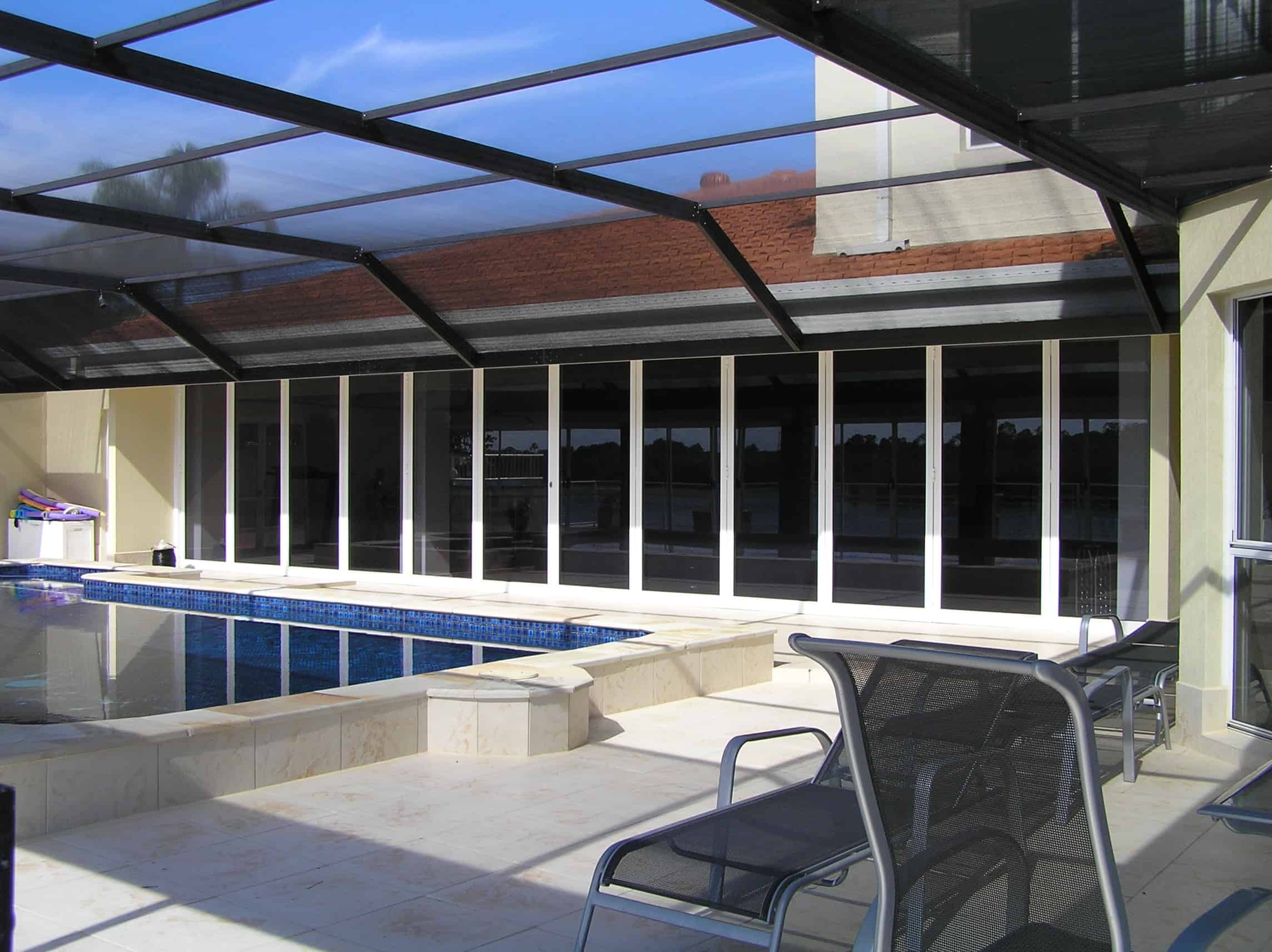 Variety of Pool Enclosure Colour Options
HV Aluminium has a wide variety of contemporary colour options for the aluminium frame, which will allow you to match your enclosure to your home seamlessly. Instead of looking like an add-on, your pool enclosure becomes a natural extension of your home.
Customisable Options
Every pool enclosure is individually designed to suit your needs and lifestyle. We have a number of inclusions you can choose from to create your dream outdoor living space, including:
Choose from a range of mesh grades, which offer varying levels of sun protection and privacy
Install a pet door for your family pet
Choose a heavier shade cloth where extra sun and wind control is required
Enclose your pool or entertaining area separately or extend the pool enclosure to include other areas of your outdoor living area for a more private oasis
Reduce Ultraviolet Radiation Exposure
Florida pool enclosures reduce ultraviolet radiation from the sun by up to 45% so you can enjoy swimming and reduce your exposure to the damaging effects of the sun. This makes it ideal for families and those with sensitive skin.
Durable & Designed for Australian Weather
HV's aluminium frames are designed specifically for the Australian environment and are ideal for use in pool enclosures, as it does not rust or attract mould or pests. Our frames are manufactured from high-grade aluminium and marine-grade stainless steel, so they are long-lasting in all weather conditions. They can also be powder coated or anodised to make them highly resistant to corrosion and wear while providing a rich, long-lasting colour. They are non-combustible, will not warp and do not require painting – our frames are extremely low-maintenance. Also, the mesh on the pool enclosure is made of a high-strength PVC fibreglass, which acts as a wind filter so you can enjoy using your outdoor swimming pool on windy days and provide protection during stormy weather.
Australian Compliance with Pool & Fencing Requirements
HV Aluminium's Florida pool enclosure designs, including framework and mesh, are constructed to comply with all Australian pool and fencing requirements.
10 Year Guarantee with HV Aluminium
Your patio cover installation will be completed to the highest standard, with a 10-year guarantee and compliance with all Australian standards.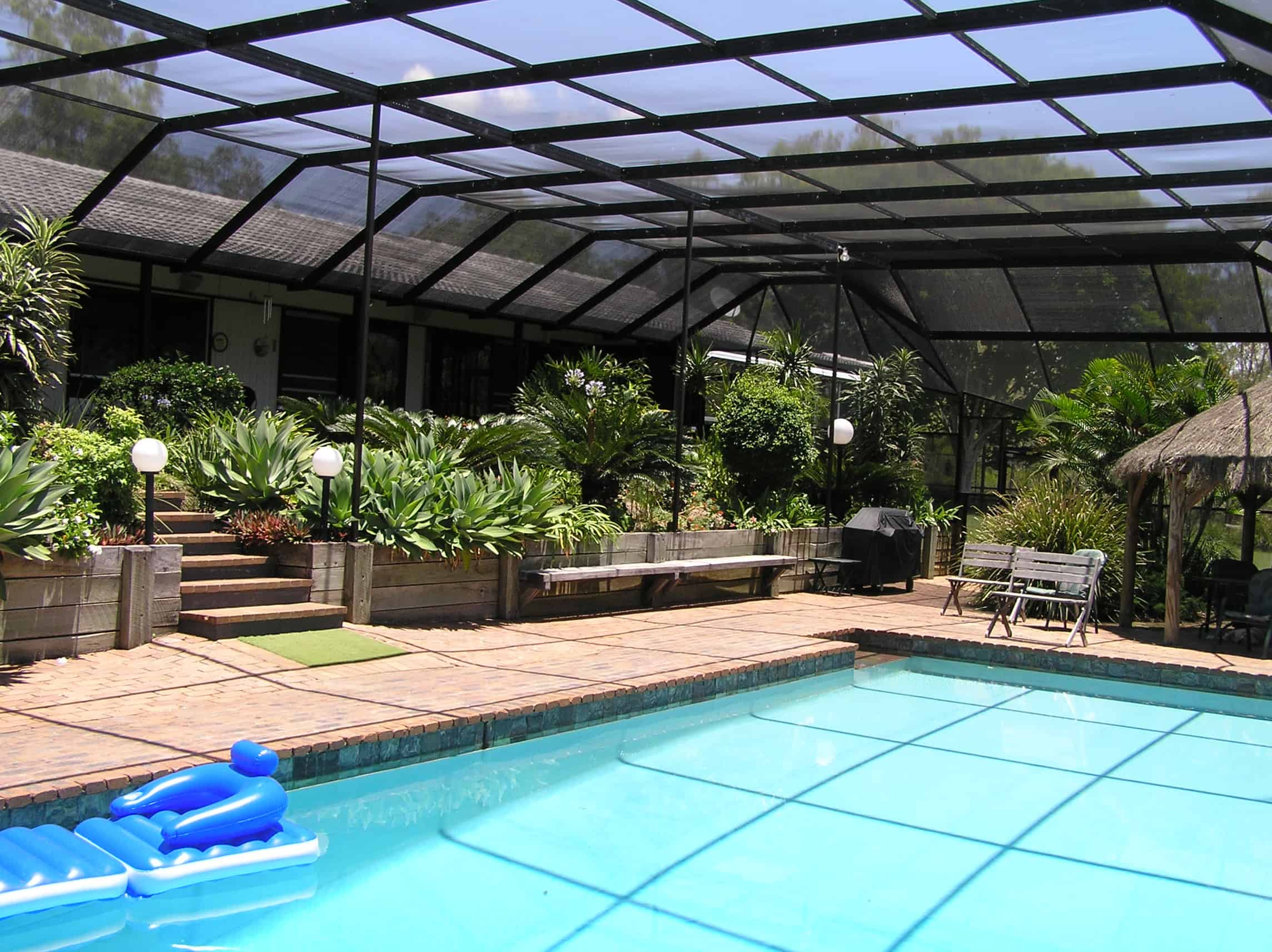 Typical Timeframe for Florida Pool Enclosure Installation
Timeframe for a Florida pool enclosure installation can differ, as it depends on how big the project is and whether you need council approval or not. For customised or more complex free-standing structures or enclosures being integrated into an existing structure may take longer, and if the project requires council approval it will take longer again. So timeframes can be tricky to pin down, but we are with you every step of the way and communicate timeframes ongoing.
Each project includes an initial appointment followed by the quote and sign-up, then we check the design, measurements and plans for the structure. Once the measurements and plans for the project are confirmed, we look into the need for council involvement, then follow through with materials procurement, delivery, installation and clean up.
The Pool Enclosure Installation Stages
A pool enclosure installation can be broken up into the following stages with time spent on each stage dependent on the size of the project:
Quote and go-ahead
Paying home building compensation and/or deposit
Job site check measure
Drafting of plans and approval
Plans sent for approval to the certifying body or council
Materials list created and non-stock items ordered
Job-ready check
Schedule in project and builder
Deliver materials to the site Job start, finish and clean-up
We will assist you with every step of this process to make sure your project moves along as quickly as possible, with minimal disturbance to you.
At HV Aluminium, we love to work with you to help you on your journey towards your dream home. We'll work with you to determine how you'll be using your pool space and local weather conditions, before providing some design ideas to choose from. Before you know it, you will be relaxing in your own private oasis by the pool, private and protected from the elements!
Are you interested in adding a Florida Pool Enclosure or outdoor living space to your home? HV Aluminium Newcastle are the experts in outdoor living in Newcastle, the Hunter region, Central Coast and Port Stephens.