A pergola, deck or patio is the perfect place to hang out in summer.
A glorious afternoon kicking back on the deck with a couple of cold beers and watching the sun go down over the cityscape…
It's well worth the reno to give you and your family the chance to soak in the beauty of the outdoors.
A little addition is the best way to experiment with a DIY job, and it's easy to source ready-made versions of trickier features like roofs, shutters, louvres and covers.
There's nothing more satisfying than doing your own renovations and extensions – and you'll save a whole bunch of cash you can use to enjoy the rest of the summer.
Spending a couple of months knocking together some sturdy materials to build a new pergola, deck or patio is not just rewarding – you can significantly increase the value of your home.
According to the National Association of Realtors, a new wooden deck will recover 106% of its value when a house is sold and 77% of homeowners want to be home more often once their project is done.
It sounds amazing, right?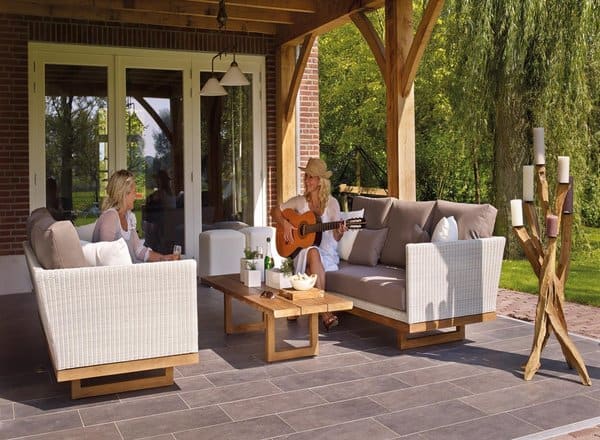 There's just one problem standing in the way of your outdoor renovation spectacular…
You need to make sure you have council approval to build an extension on your home – even if you own the property.
Anyone familiar with the council approval process in NSW understands the importance and the difficulty of this extra detail.
Generating an approval is the most complicated part of building your new outdoor area. Forget about measuring twice and cutting once: you're going to need the council's approval to get your project started in the first place.  

Most pergolas, patios and decks fall under the New South Wales government's "exempt development" list meaning you don't need approval for a minor renovation.
However, you do have to meet specific development standards to go ahead without council approval.
These standards are not super challenging, and we're going to guide you through them step-by-step.
The good news is for its projects, HV Aluminium looks after council approval for its clients – saving them the hassle and hoopla.
If you're going it alone with your project – here are the four simple steps to getting patio council approval.
1. Check the zoning of your property

There are four broad zoning categories: residential, commercial, agricultural and industrial. There are specific rules, policies and regulations for each category, so it's important you have a grasp on the zoning of your land.
You can check the zoning of your property on the NSW Planning Portal. The portal provides loads of information about your land including:
The zone e.g. residential
Objectives of the land e.g. to provide diverse housing
What developments are permitted with consent versus without consent
The developments that are prohibited e.g. backpackers or hotels
Check out the NSW Government website for more details. You may learn something new about your property that may help or hinder your chances of gaining council approval.
2. You need to explore the 'exempt development standards'

It sounds boring but it's crucial to scour the State Environmental Planning Policy (Exempt and Complying Development) Codes in order to educate yourself and successfully generate council approval. It's lengthy and full of legislation, but it's worth reading to avoid any surprise "no thank yous" from the government.
The council often rejects project proposals for minor issues with measurements, designs and placement. Play it safe, read the conditions, and you'll save yourself a potentially costly and lengthy delay.
To build without council approval, there are a few general rules outlined on the New South Wales government website to follow:
The development can't have an enclosing wall higher than 1.4m
It can be no larger than 25m squared
If your structure is made of metal, it has to be non-reflective, factory pre-coloured material to avoid bothering (or blinding) the neighbours or traffic passing your home
If your project is within five metres of your house and in bushfire prone areas, it must be made of noncombustible materials. This is for the safety of everybody in the area as well as the natural environment
Your structure can't be built on land under the State Heritage Register, a critical habitat of an endangered species or a wilderness area under the Wilderness Act 1987.

This is just a brief summary of things to consider before building your project. Check out your local council website for more details on exempt developments.
3. Adhere to laws and legislation

You may not need council approval but you definitely need to comply with laws and legislations set in place by the local government.
Adjoining property rights, for example. You're allowed to build a new pergola, deck or patio so long as it doesn't interfere with your neighbours or their property. Getting permission from your neighbours (and making the effort to protect their home as well as yours) is an important step to start your project.
Consider water mains, stormwater drains and power lines before building, too. There's nothing worse than having your hot water, electricity or internet cut out without warning.
Think about the neighbourhood and build smart.
Get council approval for your building project before you start the job
Council approval may sound complicated, but if you understand the key considerations and follow the rules we've outlined – the process is relatively simple and straightforward.  
Your local NSW council will offer countless resources to guide you through the process and if you make the effort to follow the guidelines, you could have your new pergola, deck or patio built and ready for that first family BBQ in next to no time.
Want to talk to a home extension expert about adding value to your Newcastle, Central Coast or Hunter Valley property? Get in touch with the HV Aluminium team today on (02) 4903 3388.
Image source: Pexels