Eclipse Alfresco Opening Roof (Flat)
A stylish and effective aluminium louvre roof.
Control light, shade and ventilation.
Enjoy your outdoor area rain, hail or shine. The Eclipse Alfresco Opening Roof looks like a clean, sleek flat roof when closed but with the flexibility of an open roof.
The flat louvre roof is ideal for balconies, patio areas and pool decks. For large entertaining areas, you can build in multiple sections to get the design and functionality you desire. This is an all-weather louvre system, with the almost 180-degree rotation giving you complete control over the level of sunlight, shade and ventilation at the touch of a button.
In summer, interior rooms are shaded from the heat, which will reduce cooling costs. Barbeque smoke can easily be ventilated through the louvres. In winter, roof louvres can be angled to reflect light into adjoining rooms, so they're filled with natural light and warmth. You can close the roof louvres for protection in the rain, and the wide gutter system will channel water away from your house, allowing you to enjoy your outdoor entertaining area regardless of weather conditions.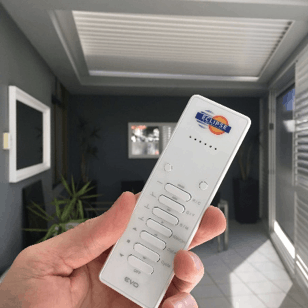 You'll never get caught out in the rain again.
Rain, Wind and Light Sensors
Smart Phone or Tablet connectivity
Home Automation System integration
Control down lights, spotlights and strip lights
Operate fans and heaters
Play music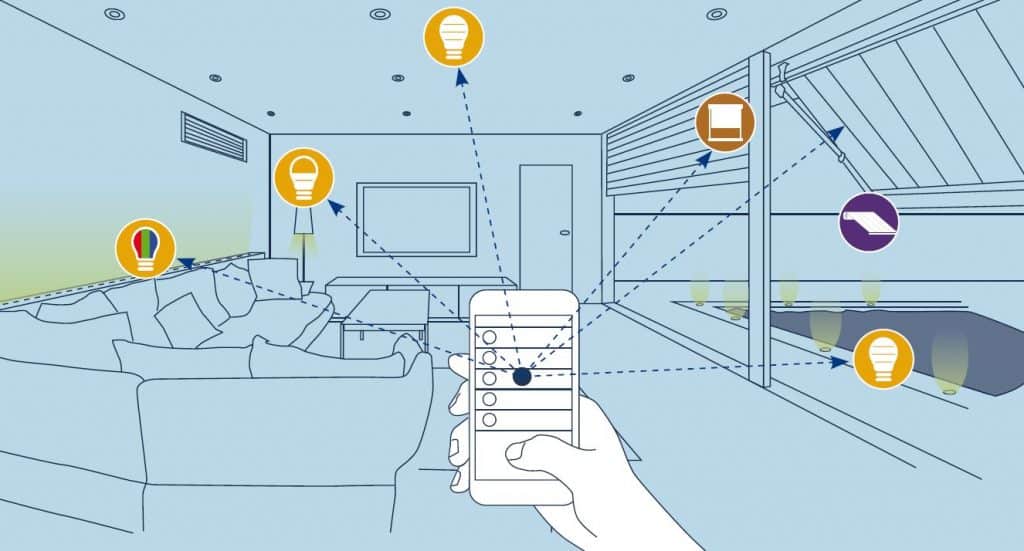 The Eclipse Linear control system works through your handset, smartphone or tablet to:
Adjust the louvres to the perfect position
Manoeuvre roof areas separately or collectively
Save time with four pre-set positions
Basic remote and wallmount touch pad options available for simple operation
Click here to read more about Automation and Control Systems.
We offer a 10-year guarantee on the louvres, pins and track system when fitted by our experienced tradespeople.
With more than 60 contemporary colours to choose from, we can create a louvre roof to seamlessly extend your living area.
Low Maintenance and Long Lasting
Our components are manufactured from high-grade aluminium and marine grade stainless steel, so they are long-lasting in all weather conditions.
Our aluminium louvres, gutters and framing can be powder coated or anodised to make them highly resistant to corrosion and wear. They are non-combustible, will not warp or require painting, and only need a small amount of energy to operate.
If you have any questions, please feel free to get in touch.
Your louvre roof can be flat, pitched, curved, angular or used vertically as a privacy screen. The sleek design and choice of finishes allow the Eclipse Flat Louvre Opening Roof to blend brilliantly with any architectural style.
Our Opening Roofs, Window Shutters and Privacy Screens provide you with more control over sunlight and privacy in your home. Give us a call for advice on what product is best for you. 
Help designing your project
We love to help. Book a free design consultation. with our design imaging service we use real photos of your home and our products to show you what your finished project will look like
We offer a free measure and quote service. You can simply book online (link below), give us a call on 02 4903 3388 or come visit our Hunter Region Showroom in New Lambton, Newcastle.