Opening roof.
Single skin roof.
Insulated roof.
So many roofing options. But how can you choose the best one for your outdoor area?
Here at HV Aluminium, we've got over 40 years of experience in helping customers choose the perfect roofing option for their outroom room or patio.
You don't have to run inside when the weather gets nasty. Instead, you can keep partying, relaxing or doing whatever it was you were doing before you got rudely interrupted by the rain.
In this guide you're going to learn two very important things:
What are opening roofs, insulated roofs and single-skin roofs 
The benefits of each roofing option, highlighting their unique advantages and helping you make an educated decision about your patio.
What are opening roofs and what can they do for me?
There's nothing we Novocastrians love better than putting our feet up on the couch with an ice-cold beverage in hand, but we are also no strangers to the occasional mid-summer southerly bluster.
Rather than getting driven inside by a sudden change of weather, an opening roof can help keep the good times keep rolling.
Here's how it works.
You're reaching for the opening roof remote, located on the coffee table next to the couch… and just like magic, the roof closes above your head, protecting you from the incoming downpour of rain.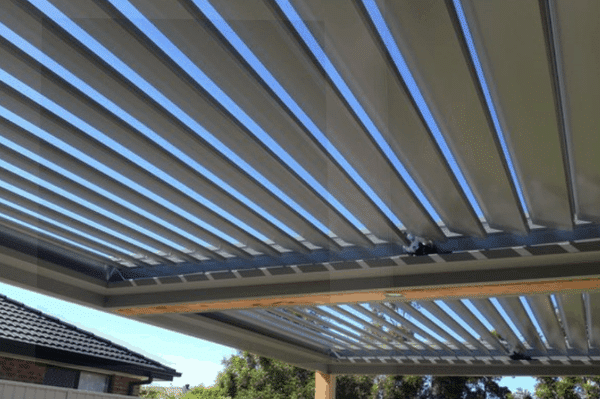 Source: HV aluminium 
How do opening roofs work?
Opening roofs allow total control over the amount of light, sun and shade in your outdoor living area.
A popular choice for this kind of roofing is the Eclipse Opening Roof. Designed and engineered in Australia, the Eclipse Opening Roof is made up of extruded aluminium louvres and stainless steel components. Together, these materials make the Eclipse Opening Roof suitable for extreme heat, strong winds and coastal conditions that often cause rusting and damage over time.
Need more convincing? Here are some other benefits of choosing an opening roof for your outdoor room or patio:
Control the amount of sunlight exposure – adjust to the perfect combination of sun and shade using the Eclipse Opening Roof remote.
Maximise the use of your room – even in light rain, the louvres can be left partially open to let the water drain away, making it the perfect roof for every occasion.
Perfect for entertaining – host gatherings without worrying about cramming everyone into the house.
Adds value to your home – you could potentially sell your home for more as there's growing popularity of buyers wanting outdoor rooms.
If you've got a small house but love entertaining, an opening roof might be the perfect solution for your outdoor entertainment needs. Opening roof systems are ideal for year-round use and are loved well by families with small homes who enjoy hosting social gatherings.
Now, we move onto insulated roofs.
What are insulated roofs and what can they do for me?
Looking for an outdoor roof which excels in functionality? An insulated roofing option might be the perfect match for your home.
Insulated roofs are designed to add an extra layer of warmth to your home or outdoor area. They act as a weather protector, cooling your living space down in summer and warming it up in winter.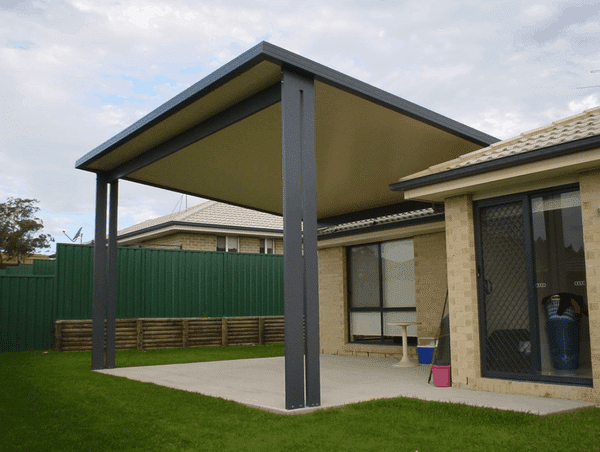 Source: HV aluminium
At HV, we recommend insulated aluminium roofing for patio covers, mainly for extra durability. You can read the full list of reasons here, but for the time being, here are two things that make us love insulated roofing:
The look and style of an insulated roof – You can choose from a variety of contemporary colours for both the top and underside of the aluminium panels, as well as a variety of thicknesses to suit your home and local weather conditions.
Perfect for entertaining, no matter the season – Insulated roof sheeting offers remote-controlled, low voltage downlights, plus you can choose from a range of styles to perfectly suit your outdoor room.
Here at HV, we love insulated roofing and how much it can improve the look and feel of your outdoor room. If you're looking for warmth outdoors year-round and a wide selection of colours to match your home, insulated roofing could be the right choice for you.
Next up – single-skin roofs!
What are single skin roofs and what can they do for me?
Single skin roofs are a lightweight layer of sturdy material like steel or aluminium, finished with high gloss paint on the top and bottom.
These roofs are suited for flat, gable, pitched steel and aluminium roofing options.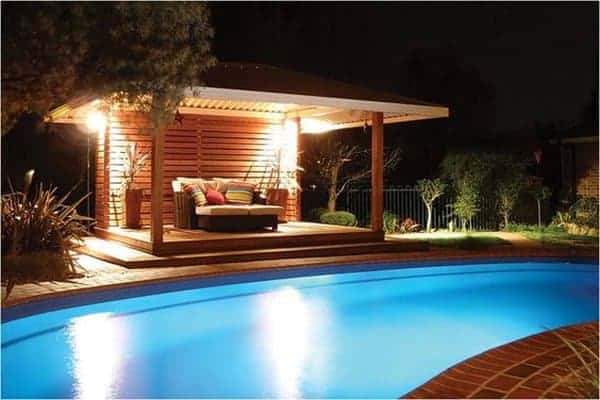 Source: Pinterest
Here are some of the main benefits of single skin roofs:
Endless colour options. You can match your single skin roof seamlessly with your home!
A cost-effective solution. Compared to opening roofs, single skin roofs cost less and are able to fit seamlessly into your budget.
Low maintenance. Hate cleaning, especially when ladders are involved? Single skin roofs are an effective solution. These roofs are low maintenance and simple to clean with a bucket of water.
Which roofing option will you choose?
Want the cheat-sheet edition?
There are three effective roofing options for your outdoor room – an opening roof system, insulated roofing, or single skin sheets.
All three options have their own benefits. For example, opening roofs have the advantage of being changed via remote control depending on the weather, whereas insulated roofing has the ability to keep your outdoor room toasty warm, even in winter.
Single skin roofing, on the other hand, is lightweight, cost-effective, and easy to clean (if it ever needs cleaning at all).
Wondering why all these elements matter, or why you need roofing at all for your brand new patio, pergola, or outdoor room?
A) Adding a roof to your patio or pergola is a valuable, long-term investment for your home. You'll be using your outdoor room for years to come and adding value to your property.
B) An outdoor room with a roof is perfect for entertaining guests, no matter the weather. If you're an entertainer at heart and want to keep the party going, you should consider investing in a remote control opening roof from our Eclipse Range.
C) Hot summer sunshine can make it unbearable to sit outside in comfort for long. In winter, it's often too chilly to spend too much time outdoors. If you want to get outdoors in extreme weather conditions, you'll love insulated roofing – it controls the temperature for you with no effort on your part.
D) It's true that adding a roof to your outdoor area can be an investment. If you want to remain budget-conscious, consider a single skin roof – it's lightweight and gentle on the wallet.
Now the decision is in your hands. Choosing the right roofing option for your family is an important decision – if you would like some extra guidance, please contact the HV team on (02) 4903 3388.
Ready to get your roof underway? Book a quote now with HV Aluminium Newcastle, Central Coast or the Hunter Valley