Create a private oasis in Newcastle with our stylish alternative to shade sails.
A Florida Pool Enclosure protects your pool or entertaining area from bugs, leaves and debris while allowing fresh air and natural sunlight to shine through the fibreglass mesh.
Imagine cooking a barbecue without the flies, or enjoying a swim in the shade of the trees, without the hassle of clearing falling leaves and branches every time you have guests.
Create a private oasis with a screened pool enclosure that allows you to enjoy your swimming pool all year. They are an ideal alternative to traditional shade sails and can be built over any area, including swimming pools, balconies, patios and barbecue areas.
Florida Pool Enclosures reduce ultraviolet radiation from the sun by up to 45% so you can enjoy swimming and reduce your exposure to the damaging effects of the sun. This makes it ideal for families and those with sensitive skin. The mesh on the pool enclosure also acts as a wind filter, so you can enjoy using your outdoor swimming pool on windy days. You'll reduce the need for a pool filter and chemicals while saving on power costs and vacuuming time over the life of your pool enclosure.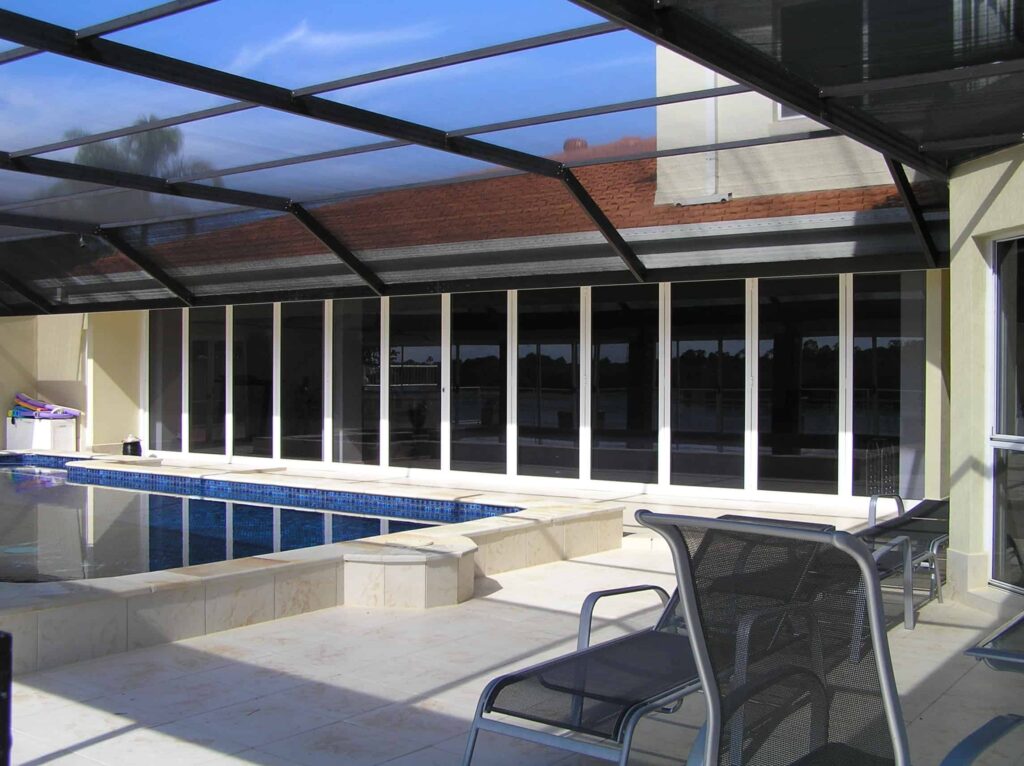 Large panels and a discreet aluminium framework maximise your views
High-strength PVC fibreglass mesh strong enough to withstand heavy weather conditions
Framework and mesh are constructed to comply with all Australian pool and fencing requirements
A range of mesh grades offer varying degrees of sun protection and privacy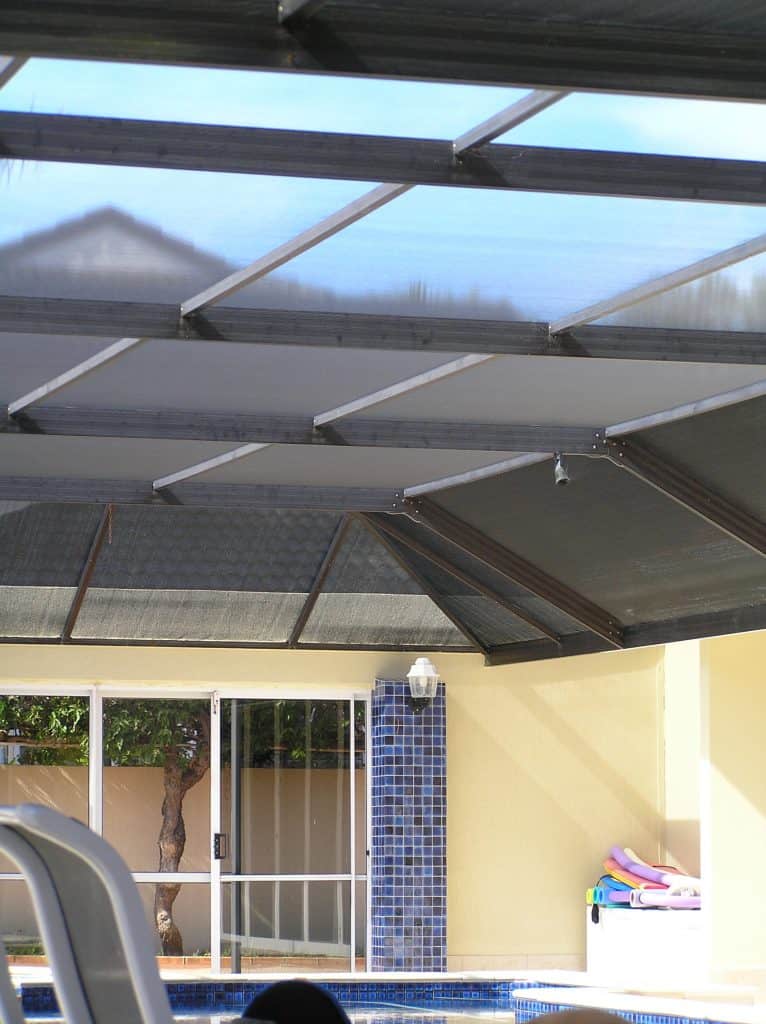 Every pool enclosure is individually designed to suit your needs and lifestyle.
Install a pet door for your family pet
Choose heavier shadecloth where extra sun and wind control is required
Enclose your pool or entertaining area separately or extend the pool enclosure to include other areas of your outdoor living area
We offer a 10-year guarantee on Florida Pool Enclosures when fitted by our experienced tradespeople.
With more than 60 contemporary colours to choose from, we can create a pool enclosure to seamlessly fit into your outdoor area.
Low Maintenance and Long Lasting
Our components are manufactured from high-grade aluminium and marine grade stainless steel, so they are long-lasting in all weather conditions.
Our aluminium framing can be powder coated or anodised to make them highly resistant to corrosion and wear. They are non-combustible, will not warp or require painting.
Aluminium is ideal for use in pool enclosures, as it does not rust or attract mould or pests. It is highly durable and requires very little maintenance.
If you have any questions, please feel free to get in touch.
Make the most of your swimming pool and entertaining areas with a Florida Pool Enclosure.
Our Opening Roofs, Window Shutters and Privacy Screens provide you with more control over sunlight and privacy in your home. Give us a call for advice on what product is best for you. 
Help designing your project
We love to help. Book a free design consultation. with our design imaging service we use real photos of your home and our products to show you what your finished project will look like
We offer a free measure and quote service. You can simply book online (link below), give us a call on 02 4903 3388 or come visit our Hunter Region Showroom in New Lambton, Newcastle.