When you've set yourself the task of building a new patio but lack inspiration, it's easy to throw your hands in the air and declare, "I quit." 
Two months later, you find yourself sitting on a bucket in the backyard, drink in hand, wishing you'd built your patio.
Don't let your dreams of building a patio fall through due to a lack of inspiration.
At HV Aluminium, we've been helping families build outdoor rooms and patio covers for over 40 years. From conversations with our customers, we've really gotten to know what people want in an outdoor patio or cover.
 
We've taken your feedback and searched for some of the most drool-worthy patio designs from around the web in order to create an inspirational patio design guide. We'll start with a design that's close to our hearts – the Flat Louvre Opening Patio Roof.

#1. Flat louvre opening roof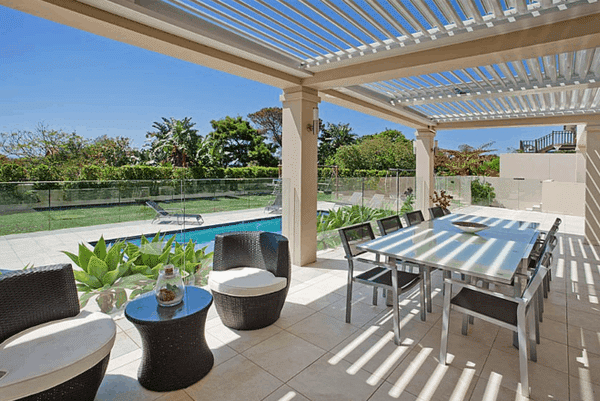 Source: HV Aluminium
The Eclipse Flat Louvre Opening Roof – the perfect roof design for year-round use.
When closed, the Eclipse Flat Louvre Opening Roof has the characteristics of an elegant flat roof, giving you the benefits of a regular closed roof, like keeping out the rain and protecting your family from harmful sun rays.  
Need a little sunshine in your life? With a touch of a button, you can adjust the louvres to control the level of sunlight, shade and ventilation coming through from outside. 
The Eclipse Flat Louvre Opening Roof has close-to a 180-degree rotation and includes a deep gutter system that carries water away from your home, allowing you to enjoy your outdoor entertaining area regardless of the weather.
Interested in upgrading your outdoor room? Click here to book a quote with HV Aluminium.
Wood featured patio designs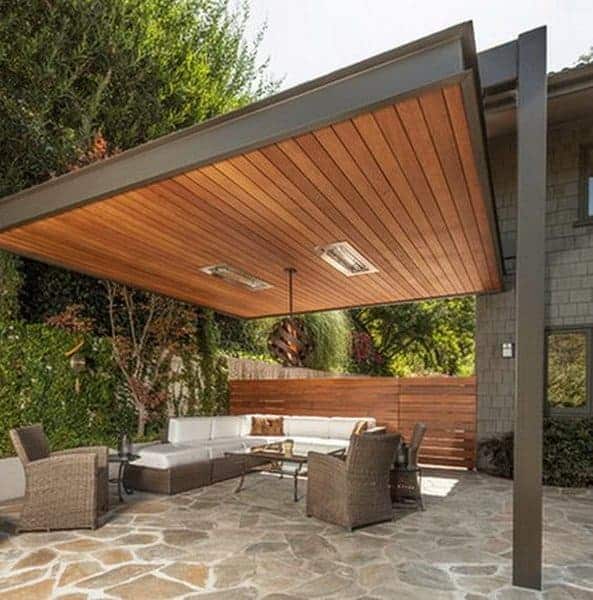 Source: Pinterest 
Looking to take a more rustic, eco-friendly route? Consider using wooden or timber panels for your patio cover, paired with wooden or cane furniture and a jungle of plants around the outside.
If you're interested in taking the DIY approach, you can get creative with wooden pallets that are often sent to the tip from nurseries, pet stores, megastores and grocery shops. You could even source them from Gumtree, usually sold for cheap or sometimes even free!
Wooden pallets are an inexpensive material to recycle and revamp into a feature wall or roof patio. Most stores are keen to ditch their pallets, so take the wood off your local store's hands before their furniture or plant-pot potential is wasted.
Building an outdoor room on a budget? Take the DIY approach and create some new furniture to match your new roof wood-feature roof. 
Learn to create a table complete with an inbuilt succulent planter from wooden pallets or how to make comfy Moroccan-style chairs in one of our latest blogs, five DIY patio outdoor furniture ideas to revamp your backyard. 
DIY timber furniture will complement a timber patio amazingly!

Aluminium patio roof designs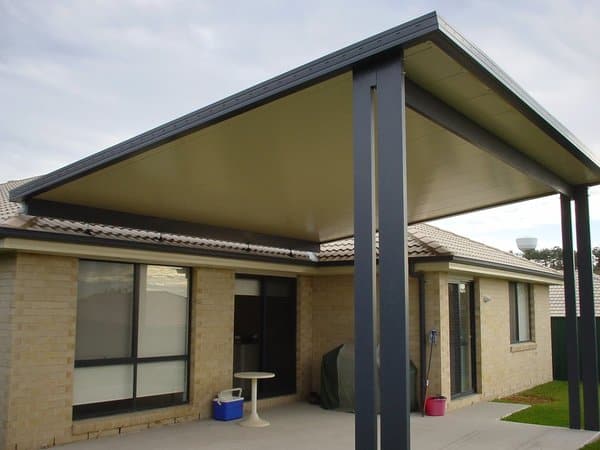 Source: HV Aluminium
HV Aluminium are specialists when it comes to aluminium patios and roofing solutions. We have a huge range of outdoor aluminium patio roofing to choose from, including the traditional skillion and flat roofs, as well as modern options such as pitch, saw-tooth and raked roofing.
Whether you're looking to cover an existing patio or would like to create a new outdoor entertaining area, our patio covers will seem like a natural extension of your home.
The trick to creating a beautiful patio cover is to blend your outdoor room or cover with the rest of the house, so make sure to use similar colours and materials. Our aluminium patio roofs are designed to blend seamlessly into the rest of your home. 
The framework beams, posts and roof sheets are available in a variety of sizes, colours and finishes. Customise your outdoor patio cover by adding light panels in the roofing wherever you require more natural light. Glass or paradise panels can also be fitted to the walls.
Want to get the ball rolling on your new aluminium roof design? Book a quote online.

Glass patio roof designs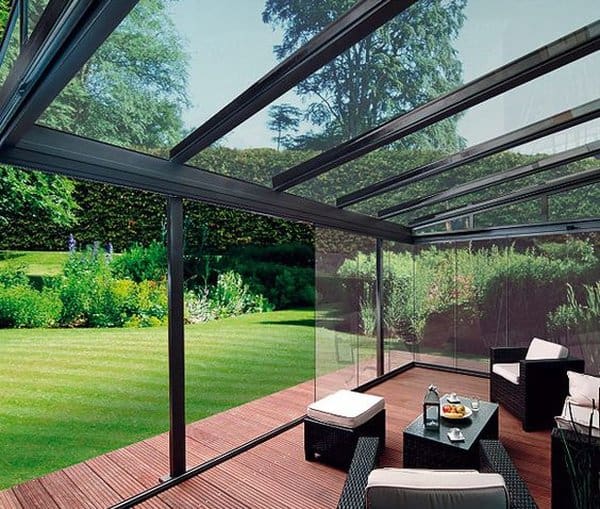 Source: Pinterest 
An enclosed sunroof is modern, elegant, and brings the outdoor world indoors! 
You get the best of both worlds with a modern sunroof. Read a book and watch water droplets hit the sunroof on a rainy day, or enjoy the sunshine on a beautiful summer day without getting sunburnt. 
The glass patio roof design is perfect for anyone who wants to connect with nature and not be affected by the ever-changing moods of mother nature. The image above shows an outdoor patio roof design supported with frameless glass features, so you'll always have an unobstructed view of the world around you.
Feeling inspired? Check out our selection of glass rooms! Our glass rooms enhance the natural light in your patio and keep you warm during the winter months. Throughout summer, the insulated roof panels will also keep your glass room cool. 
We design the rooms to suit your local climate, tailoring the roof pitch, the orientation of glass panels and energy-efficient glazing to reduce energy costs and keep you comfortable throughout the year.
Choose your dream patio design  
We covered four drool-worthy designs in this article: 
1. Flat louvre opening roof designs suit people who want to use their outdoor patio space all year round
2. Timber roof designs are a great design feature and can be matched with DIY furniture
3. Aluminium patio roof designs are traditional, stylish and suitable for all homes. They're ideal for anyone who wants to a seamless integration between their home and outdoor patio
4. The glass patio roof designs bring the outdoors inside.
Use our guide to harness your inner designer. Grab a piece of paper and a pencil and start jotting down what you want from your patio. Need some help making the final call on which design option to go with? Call us on (02) 49033388.