Whether it's a weeknight, weekend or special event, Australians love to treat their family and guests to a good old, friendly Aussie BBQ
Unfortunately, our unpredictable weather means we really need to plan our outdoor grill patio area. Before you get started with planning, here's what you need to consider:
Purpose of Outdoor Grill Area
Is the purpose of your outdoor grill area to entertain?
Do you want to use the area as an alternative to cooking inside?
Asking yourself questions about the reasons you want to build an outdoor kitchen can give you more insights about what to include in your outdoor grill area.
For example, if your purpose is to entertain then it would be wise to consider how many people may be in the area at one time. If you plan on having a large group of people at one time in the area then you may need to consider spacing to ensure everyone has enough area to move.
On the other hand, if you want your outdoor entertainment area to replicate a kitchen then you will need to ensure you have enough space to prepare your meals as well as cook them.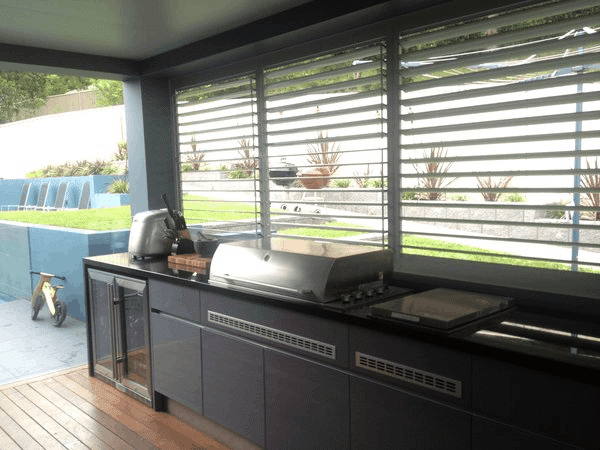 What's Negotiable and What is Not?
Once you've decided on the purpose of your kitchen, the next step is to consider what is negotiable and what is not. For example, you may have a limited budget and therefore need to sacrifice a few features to ensure there's room in your budget for the non-negotiables.
Some non-negotiables you may want to consider in your budget include:
The area size: How much space do you have to work with?
Safety requirements: These tend to be non-negotiable. Are there any safety precautions you need to be aware of such as young children being able to readily access the area? 
And the negotiables include:
Features: Do you insist on a patio roof with insulated roofing? Or maybe you prefer an aluminium patio roof design? Maybe your main priority is to include an outdoor dining area?
Accessibility: Is the area easily accessible? Is it simple to bring food from inside the house out to the BBQ area?
Patio Covers and Maintenance
At HV Aluminium, we know you want to make the most of your outdoor entertainment area. You're likely to use the area regularly, especially in the warmer months, so you want to ensure you can easily clean the area.
That's why we recommend you include a patio cover for your outdoor grill area. A patio cover will ensure the rain is kept away from your entertainment area and your guests feel more at home than ever, it also means less cleaning and maintenance. 
As for the rest of your BBQ entertainment area, unfortunately, you will have to clean it at some stage.
Here are our top time-saving tips:
Clean your patio on a dry day
Declutter the patio floor and brush away dry leaves, dirt and weeds
Or use a pressure cleaner to remove dirt, grime and mould
Read our blog Five Tips For Cleaning Patios And Outdoor Entertainment Areas if you are interested in learning about more cleaning your BBQ grill area.
Lighting Opportunities for an Outdoor Living Space
What happens after the sun sets but you still want to use your outdoor area? Consider what type of lighting will best suit your needs.
For example, you may want to place a light above your BBQ. Similarly, if you are including an outdoor dining area then you may want to be creative with your lighting options and opt for fairy lights or solar powered garden lights to add a warm glow to the area.
Want to be in total control of lighting from day-to-night? Consider having an opening roof installed which can be controlled via remote control.
Our Eclipse Opening Roof system allows you to control how much sunlight is getting through, then at night our high-tech linear lighting system can keep the party going all night long.
Furniture Choices for Your Outdoor Area
If your plan is to entertain then you may need to consider other furniture choices such as seating or a focus area that your guests can chat about.
Before choosing your furniture consider your area. Is the grill area covered to prevent furniture from getting wet when it rains?
If you don't have a roof or the sides of your area aren't enclosed, then choose wet weather furniture so your goods don't get damaged.
On the other hand, if you're on a tight budget, you may choose to get create and make your own furniture.
Here are some feature items you could include in your outdoor grill area:
Build a table from wooden panels with an inbuilt succulent planter
Add a drink cooler to your table for the ultimate summer experience
Build comfy, Moroccan-style chairs
Create a tree stump serving table and give some scrapped timber new life
Install a hammock for relaxing in the afternoon
If any of these options sound appealing then read our article, Five DIY Patio Outdoor Furniture Ideas To Revamp Your Backyard.
Newcastle, Central Coast and Hunter Valley residents – book a quote to get started on your new patio bbq area today!