Have you ever stepped into a friends, neighbours or relative's backyard to see a luxurious awning that makes the area look like a million dollars?
At HV Aluminium, we think choosing the right awning materials is 60% of the battle.
The other 40% is choosing colours and fitting the awnings. Your awnings are there to protect your patio, but also compliment your home and provide extra shade in the summertime. In this article, we're going to tackle the major battle: choosing the right modern awning material for your home.
Here are four of the most popular, weatherproof awning materials that will make your outdoor area usable all year round:
Vinyl awnings
Fibreglass awnings
Aluminium awnings
Acrylic awnings
Before we get into the different types of materials, let's look at why locals all over Newcastle are investing in them.
What are awnings made from?
Awnings are a supplementary roof or cover that helps control sunlight and heat exposure. They can be used as patio covers, can be fixed onto windows, doors or anywhere else on your home where you want extra protection from sunlight.
Picture this…
You're having some mates over for a summer-time catch up. The sun is blazing and everyone is getting the sweats. Luckily, you've got retractable awnings – you can extend them out for a quick shade solution, keeping your friends free from sunburn, then fold them away when you're finished outside.
Awnings are a great temporary solution to sun exposure, giving you the ability to create more shade in your outdoor area. They can be stationary or retractable, depending on your personal needs, and can be effective for temperature control.
Want some fresh new awnings for your home?
Here's the low down on weatherproof awning materials and their benefits.
#1. Vinyl awnings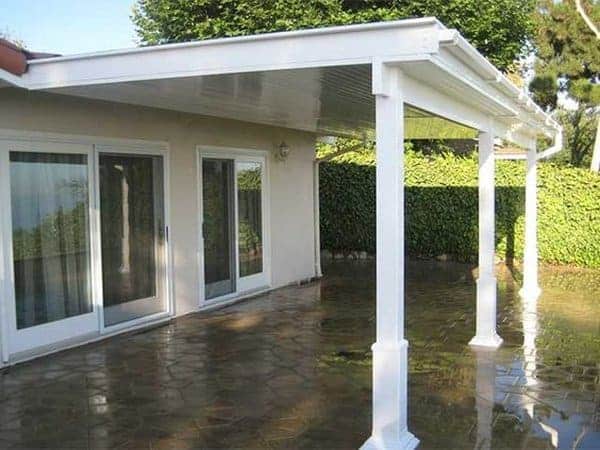 Source: Pinterest
Vinyl awnings come in two different types: laminated and coated.
Laminated is the more popular material for medium to large patio areas. Laminated vinyl awnings are durable and waterproof. Generally, laminated awnings last around five years.
Coated vinyl awnings are higher quality and are more costly compared to laminated vinyl awnings. Coated vinyl awnings contain all the benefits of laminated awnings plus they are: stain resistance, have simple maintenance and are suited for any area, large or small.
#2. Fibreglass awnings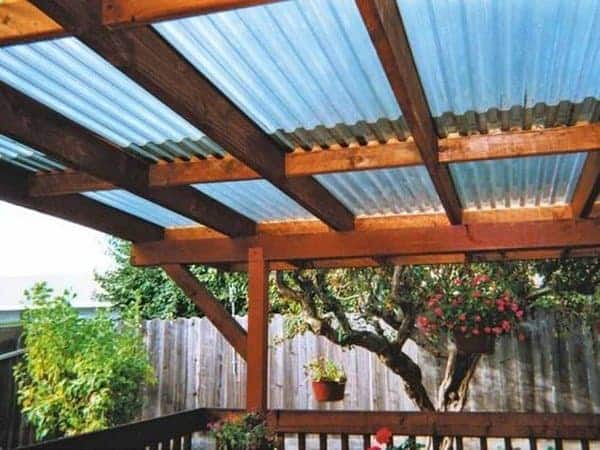 Source: Pinterest 
If you're looking for a lightweight alternative to steel and have a particular colour in mind then you'll love fibreglass awnings.
Fibreglass awnings are translucent or opaque. These awnings let some light in, reducing the risk of blocking out the sun and creating a dark, gloomy space. They let heat in too, so if you want a summer retreat then fibreglass may not be the best material to use.
Be mindful, these weatherproof awnings are the cheaper alternative and will need to be replaced every few years, otherwise, they'll become brittle from the sun exposure and will crack. They're ideal for homeowners who want a cheap, simple solution to creating an all-year-around outdoor space.
#3. Aluminium awnings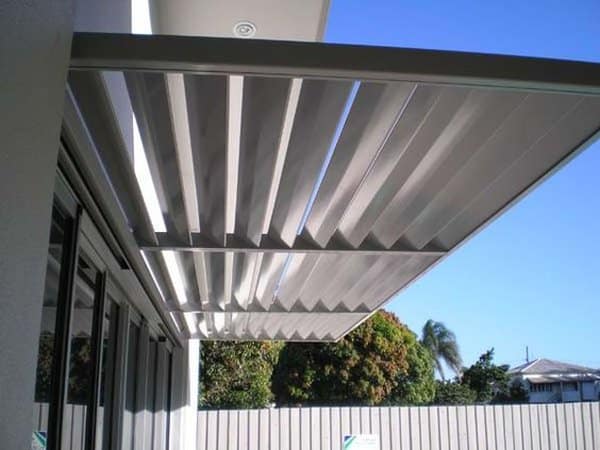 Source: Pinterest 
Aluminium awnings have remained as one of the most popular choices in awnings.
These awnings create a slick finish, are generally low maintenance, are highly durable and can be easily painted to match the rest of your home or outdoor area.
Here's what one of our customers, Margaret, has to say about our aluminium awnings:
"Just like to say, a big 'thank you', to you and the team involved in the recent construction of my awning over the back porch. You were all so friendly and professional and the awning looks so good! I will highly recommend you and your company to anyone I hear of who may be looking for the services you provide."
#4. Acrylic awnings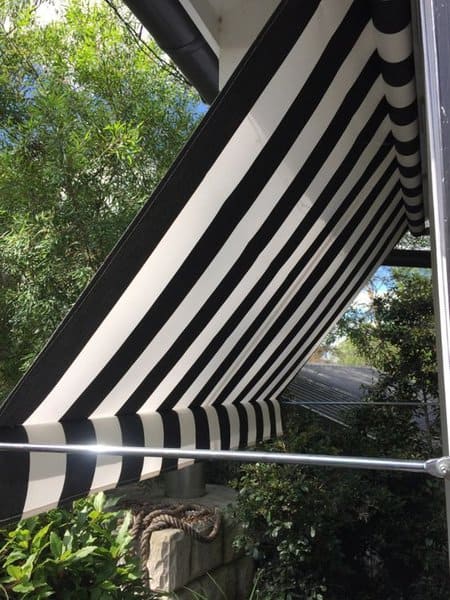 Source: Pinterest 
Acrylic awnings are durable, repel water and come in a variety of colours and patterns. They are suitable in high humidity areas (perfect for those hot, sweaty days), as well as protecting you from the rain on cold, miserable winter days.
The downside to acrylic awnings is they do tend to expand in summer due to the humidity and shrink in winter from the cold. However, overall, they'll last you around the ten year mark. You will need to make some room in your budget for acrylic awnings as they can be difficult to install.
You may need to call in the pros.
Which awning material will you choose?
Awnings are a popular material cover many homeowners invest in to create a space that can be used all year round.
Here's a quick summary to help you choose.
Coated vinyl awnings are ideal for homeowners looking for a long-term solution whereas laminated vinyl awnings are a popular choice for medium to large patios.
Fibreglass awnings are the cheaper solution for offering production from the sun and rain at a smaller cost. However, they will need to be replaced more regularly.
Aluminium awnings are weatherproof, modern, stylish and can be painted any colour to suit your home and outdoor area.
Acrylic awnings are a popular fabric choice that comes in many different designs. They're durable, repel water and are suitable for high humidity areas to keep your outdoor area cool.
The final decision is in your hands. Choosing the awning option for your home is an important decision – Need some extra guidance? Contact the HV team on (02) 4903 3388.
Stay comfortable outdoors with an aluminium awning. Contact HV Aluminium in Newcastle, Central Coast, Hunter Valley