The Facts 
About
 Adding a Carport to Your Home
Carports are a common addition many homeowners like to make, as they are relatively quick and straightforward projects that help protect your vehicles and can add value to the property. HV Aluminium has been helping Australians on their 'dream home' journey for decades and can answer all your questions on your next outdoor living project! 
What is a 
Carport
? 
A carport is a structured undercover area, similar to the structure of a pergola, and is used to protect vehicles from heat, rain, hail, and other kinds of debris. The structure can either be free-standing or attached to a wall to create an enclosed carport style. Unlike most structures, a carport does not have four walls, usually only one or two.  
What is
the Difference 
Between
 a Garage and a 
Carport? 
The difference between garages and carports is that a garage is a fully enclosed structure with a door for vehicle access and is used to protect your vehicle from all the elements, as well as providing security against theft. While a carport is a structure that has at least two open sides and provides more of an undercover area for the protection of your vehicle.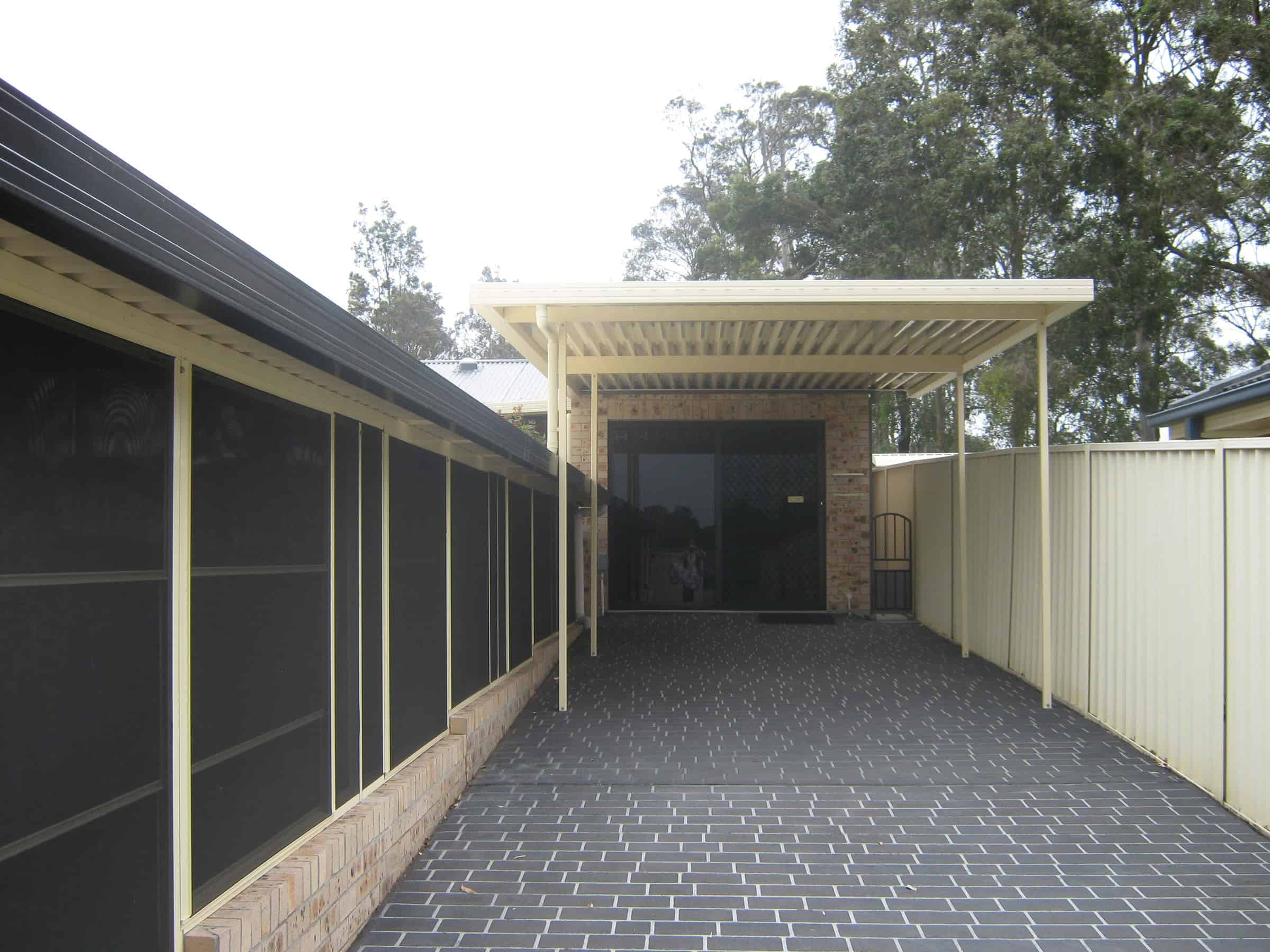 Carport
 Features
An HV Aluminium carport is made from the highest quality materials and can be tailored to suit your specific needs, to keep your property safe and help you enjoy home life to its fullest.  
Shademaster
 Shelter Systems – 
Aluminium 
Carport
HV Aluminium has chosen Shademaster Shelter Systems as the major provider of single skin roofing panels for our Newcastle clients. Our aluminium carports are 70% thicker and 40% lighter than most steel roofing, as well as being cooler. The aluminium roofing panels also won't rust like steel, which is ideal for homeowners looking to build their carport in Newcastle, Lake Macquarie, the Central Coast and other coastal environments.   
Custom Design
HV is one of the Hunter Region's most experienced outdoor living project specialists and can design a carport tailored to your lifestyle with: 
-Single and double carport options 
-Additional storage and workshop space 
–52 colour combinations for your roof, frame and ceiling 
-Gable or flat roof design 
-Tailored structure size and pitch 
-Translucent panel option for more natural light 
-Weather-Proof Passage 
To help you get from your carport to your home, we include a weather-proof passage from your outdoor space to your home, so you don't have to worry about the elements either. 
Remote Controlled Downlights 
Our low voltage downlights add a soft ambience to your paradise room for evenings at home and can be remote controlled! The downlights are specifically designed for outdoor use and are available in a range of styles.  
Durable & Designed for Australian Weather
Each of our aluminium carports is designed specifically for the Australian environment, with a durable powder coat finish that offers resistance to corrosion, while providing a rich, long-lasting colour that will last the lifetime of your outdoor carport. 
Low Maintenance Outdoor Space
Carports are a very low maintenance outdoor space with minimal cleaning and upkeep required. You can easily clean your carport as needed with a hose or a mixture of mild soap and water if required. 
What are the Benefits of a 
Carport
?
A carport offers a range of benefits that help you maximise your outdoor space, increase the value of your property and help you enjoy your property to its full potential.    
Cost–Effective 
Home Renovation
The financial and logistical commitment of a carport is much smaller than most other outdoor living projects you'll undertake. The investment is small and the structure can be removed just as easily, so this is a relatively low-risk investment you can make into your home, which may increase property value by providing additional covered parking space and increasing curbside appeal 
Carports are an Exempt Development
That's right! Carports are part of the range of home improvements you can make to your property that do not require NSW council approval provided it complies with development standards. You can read more about building without council approval in our article on exempt developments. 
Multifunctional Space
With many of HV's customisable options for carports, such as remote-controlled downlights, natural light panels and additional storage or workshop spaces, this can be an extraordinary multifunctional space for you and your family. 
10 Year Guarantee with HV Aluminium
Your carport installation will be completed to the highest standard, with a 10-year guarantee and compliance with all Australian standards.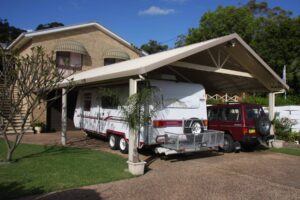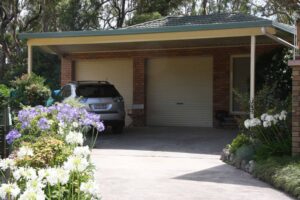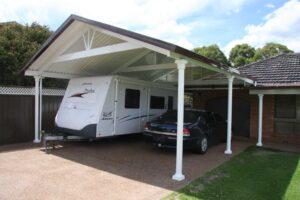 Typical Timeframe for Installation
Timeframe for installations can differ drastically, as each project can be vastly different. A simple structure that qualifies as an exempt development – which means it does not require NSW council approval – can take up to 6–8 weeks. For customised or more complex free-standing structures or carports being integrated into an existing structure will take longer, and if the project requires council approval it will take longer again.  
Each project includes an initial appointment followed by the quote and sign up, then we check the design, measurements and plans for the structure. Once the measurements and plans for the project are confirmed, we look into the need for council involvement, then follow through with materials procurement, delivery, installation and clean up. HV Aluminium assists you with every step of this process to make sure your project moves along quickly and efficiently, with minimal disturbance to you.   
At HV Aluminium, we love to work with you to help you on your journey towards your dream home. We'll work with you to determine how you'll be using your carport space, what kind of vehicles you are looking to shelter and local weather conditions, before providing a number of carport design ideas to choose from. Your outdoor carport can be free-standing or attached to your home or even an existing garage with all the right features to create a natural extension of your home. 
Are you interested in adding a 
Carport
 or outdoor living space
 to your home? Check out our Christmas in July 2020
 offer and learn how you can
 get up to 10% off your project
 when you build with HV Aluminium Newcastle.