Are you and your family turning into couch potatoes? 
The Aussie climate is one of the best in the world – you and your kids should be making the most of enjoying the outdoor space in your backyard.
We're all guilty of getting home and settling in on the couch with our smartphones, tablets and computers. Sometimes it's all too easy to relax in front of the TV and revel in the comforts of home, but there's a dangerous trend emerging from our love of all things digital. 
These are shocking statistics.
We need to make the most of the outdoors and start spending time with our families in our backyards.
You can encourage your family – especially the kids – to spend more time outside by bringing the comforts of your indoor space into your outdoor space. 
How do you turn your outdoor space into the hangout zone for your family?
We've got four simple and creative ideas to help you introduce indoor activities to your outdoor space and get your family back outside. Think backyard cook-offs, weatherproof sound systems and snuggle-worthy cushioned areas for naps and hang-outs.  
You'll be making the most of the great Aussie outdoors in your backyard in no time!
 Tip #1: Install a Rustic Outdoor Cooking Area (Complete with a Wood-Fired Pizza Oven)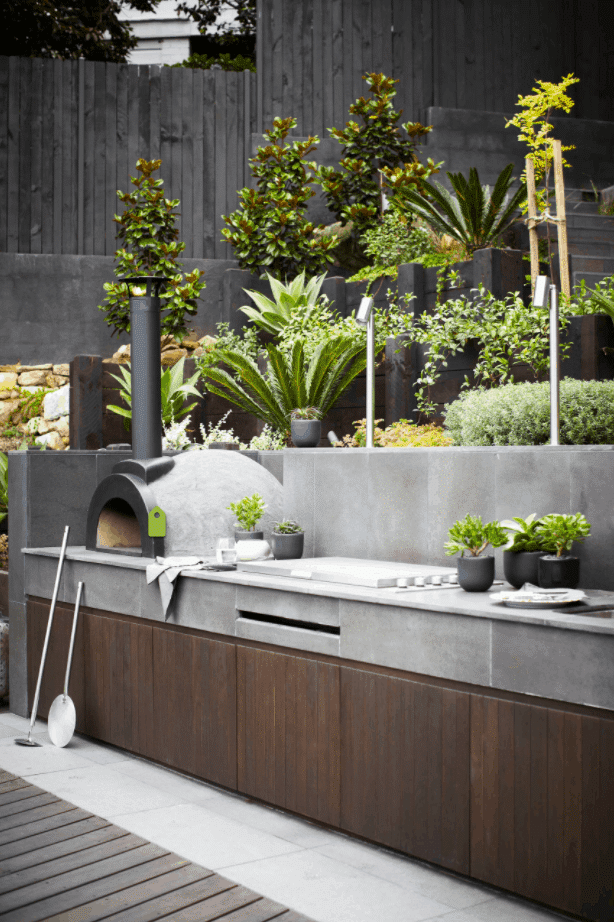 Image source: Houzz
There's something intensely Australian about a big outdoor cook-off. 
Steaks and snags seared on the barbie. Savoury damper and golden syrup baked in the embers of a dying fire. Marshmallows roasted over a roaring campfire.  
The menu over summer is fueled by smokey outdoor cooking, so why not bring the kitchen outdoors and install a high quality, easy-to-use, rustic cooking area? Those wafting smells of sizzling barbecue goodness are sure to lure the family outdoors.
An outdoor kitchen opens up opportunities for entertaining and feeding the family outdoors during the warmer months. No more heading inside at lunchtime and ending the poolside fun!
Dreaming about toasty warm winter meals on the patio? 
Consider installing a handmade clay wood-fired pizza oven. The earthy design of hand-moulded clay is perfect for an outdoor setting and the burning wood gives pizza an extra smokey hit sure to warm your soul on a cool winter evening.  
Bunnings has a huge range of outdoor cooking options available in-store and online from simple pizza ovens to full kitchen burners so there's less installation time for you (this also keeps the price of your project nice and low).
The only thing missing from this picture is a high-tech, weatherproof entertainment system to keep the kids loving the outdoors before and after mealtimes.
Tip #2: Amp Up the Summer Fun with an Outdoor Entertainment System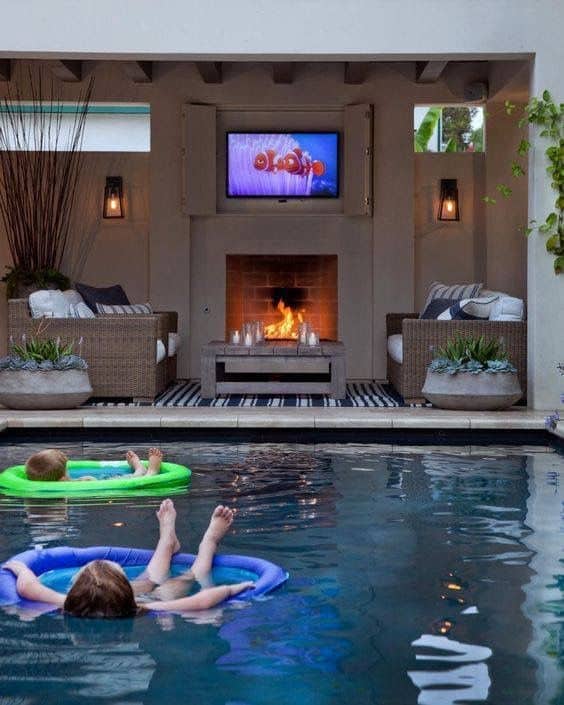 Image source: Pinterest
Kids glued to the TV?
Encourage them to spend more time outdoors and install a high-tech entertainment system on the patio. 
The kids can float around in the pool while watching their favourite movies on a weatherproof flat-screen television. 
An outdoor telly is a great option for grown-ups, too. Say goodbye to stuffy nights indoors and hello to watching Netflix on the patio!
Don't stop at the TV. You need the tunes to boot.
You and your friends can enjoy those long summer nights listening to familiar tracks on an outdoor sound system with a nice cold drink in hand. 
How to add a television to your outdoor space
Looking for a safe, weatherproof television? 
You can check out SealTV for safe plastic tech containers. This nifty gadget allows you to install a regular television and feel secure knowing it's safe from the elements (as well as those splash fights amongst the kids in the pool). 
How to add a sound system to your outdoor space
Head to JB HIFI for affordable, high-quality outdoor sound systems. Their outdoor speakers are available in convenient packs and sold separately if you're adding to an existing system. 
Need advice on installing your new speakers? Check out our article on setting up the ultimate outdoor sound system. 
Tip #3: Install an Opening Roof for Your Patio to Enjoy the Sunshine from the Shade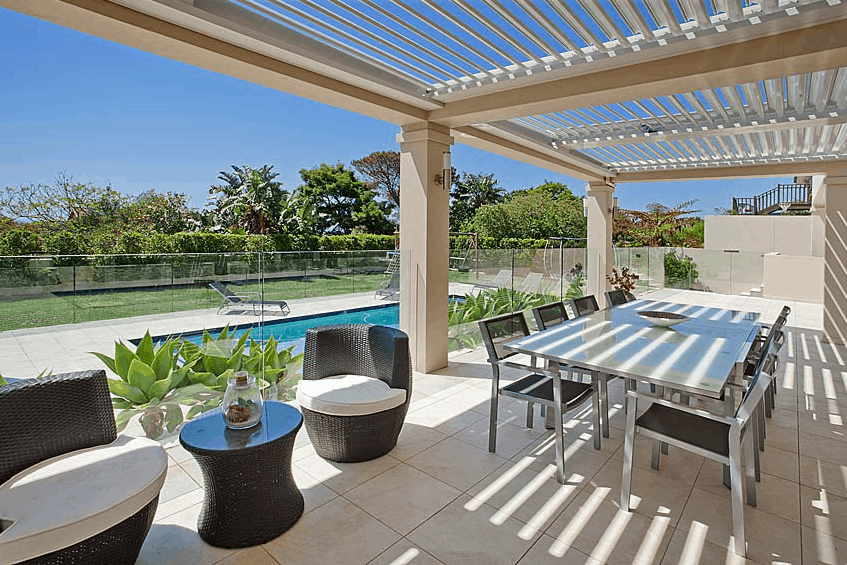 It's time to lose the annual summer sunburn. 
The most practical indoor item to introduce to your outdoor space is the roof. An opening roof system will protect you and your family from harmful sun exposure while creating a modern, stylish atmosphere on the patio. With a roof over your deck or patio – you have no excuse to keep you indoors.
The Eclipse Flat Louvre Opening Roof is the perfect choice to upgrade your outdoor space and minimise glare on sunny days. 
When closed, the Eclipse Roof has the appearance of a sleek, elegant ceiling – but with the touch of a button – the louvres open and shine sunlight down onto your patio. 
The strong aluminium design is beautifully designed, sturdy in all conditions and totally weatherproof – so when the rain comes barreling in, the louvres will protect the entertaining area and keep your outdoor entertaining area looking sharp (and dry) for the years ahead.
Want to find out more about getting an Eclipse Opening Roof system installed? Get a free measure and quote from HV Aluminium and get the project started! Once it's installed, the outdoor relaxation will never end. 
Tip #4: Create a Bohemian Outdoor Getaway with Loads of Plants, Cushions, Blankets and Lanterns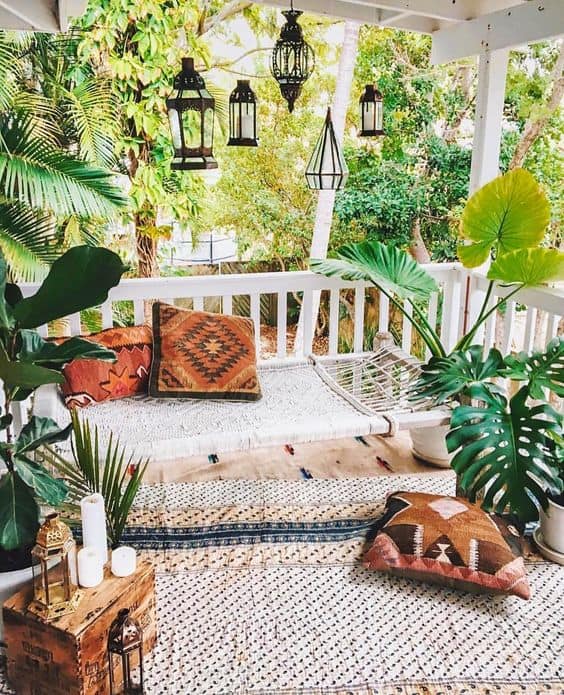 Image source: Pinterest
What's the easiest, quickest and cheapest way to help your family spend more time outdoors?
Just add a collection of comfy cushions, warm blankets and outdoor lanterns to your backyard entertaining area. Make your outdoor chill zone as relaxing as your bedroom and you'll soon find yourself and your loved ones gravitating outdoors.  Add a tonne of brightly coloured pillows and thick, fluffy blankets to the patio to create some serious bohemian vibes. 
Throw in some large-leafed plants, hanging pot plants, white candles and multi-coloured lanterns for a vibrant, high fashion look. 
Your outdoor setup will look amazing and provide extreme comfort for you and your guests on warm and sleepy afternoons.
Lighting is always a simple way to lift the mood of any outdoor space. Bunnings has tonnes of lanterns available in a range of colours and styles. The Haven Modern Provincial Lantern is elegant in white or you can brighten up your patio with a Coastal Chic Cafe Candle Lantern made from mixed woods painted shades of blue.
Upgrade your comfort outdoors with bohemian pillows, blankets, plants and lanterns. It'll be like lounging around in bed… outdoors!
You might even like to establish a no-screen rule for your outdoor oasis. A book, a mag or a good old-fashioned chat will help you keep the family vibe sane.
Take Inspiration from your Indoor Comforts to Make Your Loved Ones Feel at Home Outdoors
It's time to lure those couch potatoes into the great outdoors.
Introduce the things keeping you indoors into your outdoor space. You'll find it maximises your chance to relax and to have fun exercising, eating, chatting and hanging out as a family without a screen and an air conditioner.
There are countless advantages of spending time in the sunshine. According to business and life blog, Business Insider, getting a breath of fresh air can improve mental health, sharper thinking, and can even reduce the chance of nearsightedness in kids!
You can amp up the health of friends and family with these outdoor activities inspired by the luxuries of home: 
Fire up the outdoor kitchen and serve woodfire pizza in the sunshine 
Catch a movie or football game while floating around in the pool outside
Take a sneaky nap in a pile of bohemian pillows and blankets on the patio
Have drinks with your friends under the protection of an Eclipse Opening Roof
Upgrade your outdoor space and watch the kids run straight outside after school for backyard fun!
Want to talk to a professional about installing an Eclipse Opening Roof in Newcastle, Lake Macquarie, the Hunter, Central Coast or Port Stephens? Call us on (02) 4903 3388 to discuss your ideas or get a free quote and get your project started.