Creating an Outdoor Living Space Maximises the Lifestyle We Enjoy! Learn the Differences Between These Outdoor Rooms & See Which One Works For You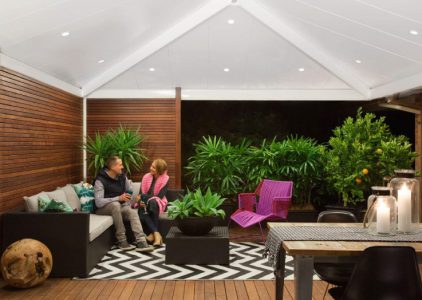 There are many ways to create unique outdoor living areas for you and your family to enjoy, including paradise rooms, screen rooms and glass rooms – but what makes these rooms different? And how do you choose which one is the right "fit" for your home?
At HV Aluminium we have helped many people develop their 'dream' outdoor room. Now, we want to share our top tips with you.
But first, ask yourself: "What is the purpose of my outdoor living space?"
Is the purpose of your paradise room or screen room to entertain family and friends? Will your glass room be filled with plants for your own personal nature escape? Do you want a place to unwind in privacy without being locked up indoors? These kinds of questions will help you pick the right outdoor living space for you. Read our blog on designing an outdoor room in Newcastle for more insights to get you started.
Looking For More Privacy in Your Backyard? Add a Screen Room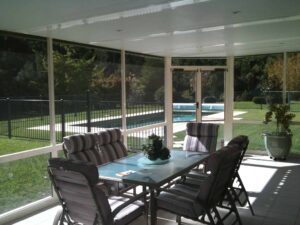 A screen room is perfect if you love getting some fresh air on the daily but enjoy the privacy of your home, blending the best of the indoors with outdoor living into a single space. 
Plenty of shade? Check. 
No bugs? Check.
Plenty of airflow? Check.
Screens to obscure your neighbour's view? Check!
Screen rooms are a popular choice for homeowners and families as they are quite versatile. This space has the comfort of the indoors with all the perks of the outdoors, making it great for alfresco dinners, BBQs with the family, a secure play area for the kids and a spot out of the elements for animals too!
Screened rooms come in a variety of colours and designs, and can be created as an extension of your existing home. Our team at HV Aluminium can even build a customised screen for your deck, expand with concrete slab or pavers, and even offer roofing solutions. 
You do need to keep in mind though that screened enclosures don't provide protection from the rain or harsh wind, so it's best to fill it with wet-weather furniture. Another thing to remember is screened rooms can't be air-conditioned. These are all the details that HV Aluminium can take care of for you.
Enjoy all the benefits of seamless indoor/outdoor flow and bug-free outdoor living space with privacy, check out our screen room options here!
Want All Year Round Comfort? Paradise Room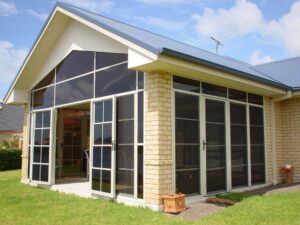 Paradise rooms are an entertainers dream – all the pleasures of the outdoors while being protected from the elements! Paradise rooms can be used for all occasions, at all times of the year. Best of all, it maintains the airflow of a screen room and can be closed up to keep the weather out!
Here are the reasons we love paradise rooms:
Paradise rooms use screens and windows, with 75% of the room able to open up for maximum airflow and can be closed up for weather protection.

Door options include swinging doors, french doors, sliding doors or bi-folding doors.

You can blend your outdoor area with your home to create a natural extension into your outdoor living space.

Our Paradise Rooms are built with a shatter-proof membrane, so it is totally kid and pet-friendly!
Interested in a paradise room? Check out our paradise rooms here.
In Need of a Tranquil Retreat? Consider a Glass Room!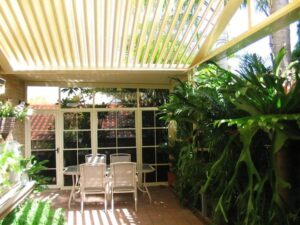 Glass rooms have captured the interest of homeowners since the 16th century and often used to grow exotic plants, creating a tranquil, natural space in their own home. Today, homeowners use glass rooms to let natural light and warmth into the home for the colder months, creating the perfect cosy corner for some serious self-care!
Over the years, we've discovered many benefits to glass rooms:
Enhance the natural light

Keep in the warmth for the colder months

Insulated roof panels can cool your room in Summer

Perfect environment for growing pot plants, herbs or pot vegetables out of season

Extra space for the family

Creates a tranquil retreat from the busy work of a house and yard
Our customers find our glass rooms ideal for enclosing balconies and providing floor-to-ceiling views of your property. Plus, if you have certain environmental goals, we can help plan and design a glass room to suit your needs to improve your energy consumption.
Thinking about a glass room? See our glass room options here!
Interested in designing a unique indoor/outdoor living space in the Newcastle, Hunter Region or Central Coast area? Talk to HV today!