The Paradise Room offers a range of benefits that help you maximise your outdoor space. This post highlights some of the advantages of installing a stylish, tasteful outdoor room to help you enjoy your property to it's full potential.
A cost effective home extension
By adding an outdoor living space to your home, you can create a cost effective room for relaxing, al fresco dining and entertaining. The financial commitment is much smaller than building a typical extension, and you can enjoy a ventilated living space that works perfectly as a natural extension to your home.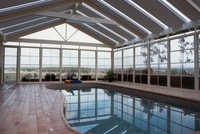 Take in your surroundings
A Paradise Room allows you to enjoy protection from the elements with uninhibited views of your natural surroundings. This can be a welcome change from your indoor environment, whilst complimenting the rest of your home. Why not show off your beautiful garden, landscaping or vistas with an outdoor living room? An outdoor living space is an opportunity for an entirely new dining and entertaining experience.
Adapt your space to suit the conditions
The design of your Paradise Room is flexible, meaning you will get to enjoy the best elements of your location. All aspects of the property are considered in the design, so the room becomes a practical extension that suits the conditions. Plus, the room itself can be adjusted to change airflow and light exposure, allowing maximum comfort and utility.
A simple and efficient installation process
HV Aluminium can work with you to quote, design and install a brand new Paradise Room that blends seamlessly with your existing home. The entire process is managed by an experienced and qualified team, allowing you to enjoy your new space knowing it has been created by professionals. You can have input into the design process and customise the room with the help of HV Aluminium, and once you are happy with the plans, installation is quick and hassle-free. A Paradise Room adds value to your home by offering more living space for family and friends, built to the specific requirements of your location. You can get a cost effective solution that also allows you to enjoy the natural aspects of your property.
If you would like to discuss your specific requirements and arrange a free measure and quote in Newcastle, Central Coast or the Hunter Valley, contact HV Aluminium on 02 4903 3388 or book a quote online here